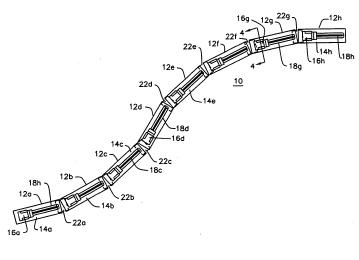 Lighting World v. Birchwood Lighting (Fed. Cir. 2004).
In its complaint, Lighting World asserted that Birchwood's fluorescent lamp fixtures infringed Lighting World's patents. At the close of Lighting World's case-in-chief, the court granted Birchwood's motion for JMOL on the ground that Lighting World had not shown equivalence under the doctrine of equivalents.
Lighting World appealed the District Court's claim construction determination that the term "connector assembly" was a means-plus-function limitation. The unanimous Appellate Panel vacated, finding that Birchwood did not demonstrate that section 112 ¶ 6 should apply.
[W]e have seldom held that a limitation not using the term "means" must be considered to be in means-plus-function form. In fact, we have identified only one published opinion since Greenberg (Fed. Cir. 1996) in which we have done so, and that case provides a useful illustration of how unusual the circumstances must be to overcome the presumption that a limitation lacking the word "means" is not in means-plus-function form.
< ?xml:namespace prefix ="" o ns ="" "urn:schemas-microsoft-com:office:office" />