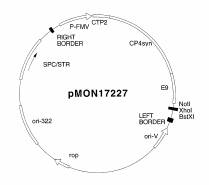 Monsanto v. Ralph (Fed. Cir. 2004) (03-1243).
Mr. Ralph appealed from a Missouri court judgment imposing sanctions for discovery abuses, violation of court orders, repeated attempts to conceal misconduct and a three million dollar damage award for patent infringement and an alternative award of liquidated damages for breach of contract.
This case falls in line with the recent McFarling opinion involving Monsanto's Roundup-Ready seeds. Mr. Ralph owns a Tennessee farm. He purchased Roundup-Ready seeds and then reportedly saved seeds from the F1 generation — a violation of the patent and the licensing agreement. During discover, Ralph burned some seed stockpiles — apparently to avoid discovery.
The Federal Circuit agreed with Monsanto that the district court properly applied sanctions for discovery abuses and properly calculated a reasonable royalty. However, the Appellate Panel did find that Monsanto's "one-size-fits-all" 120 multiplier for breach of contract failed to distinguish between various modes of breach — and thus was not enforceable.
Conclusion
Although we have determined that the contract-based damages are excessive in light of our recent decision in McFarling, the trial court did not abuse its discretion in its choice of sanction or its denial of Ralph's post-judgment motion, and Ralph has not shown that the jury award for patent infringement is "grossly excessive or monstrous," clearly not supported by the evidence, or based only on speculation or guesswork. Accordingly, the decision of the district court is