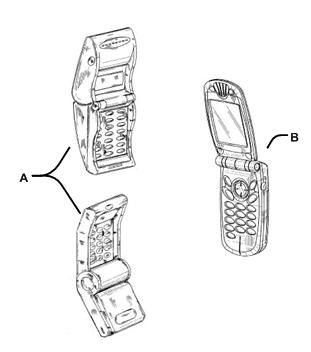 Colida v. Matsushita (Fed. Cir. 2004) (unpublished opinion).
Facts: Tony Colida owns design patents covering the design of mobile phones designated A. Matsushita owns a patent on the design for mobile phone B. In addition Matsushita makes a GU87 phone that matches up with its patented design. After comparing the phone with the figures from Colida's patents, the district court dismissed Colida's infringement suit – finding that there was no infringement as a matter of law.
Appeal: Reviewing the summary judgment de novo, the appellate panel affirmed, finding no error in the district court's conclusion that "no reasonable trier of fact could find infringement of the [patents] by the GU87 phone in this case."
Summary Judgment of Noninfringement Affirmed.