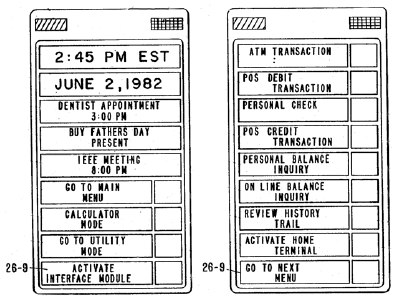 NCR v. Palm and Handspring (now collectively known as "palmOne") (Fed. Cir. 2005).
In an unpublished decision, the Federal Circuit affirmed the Delaware District Court's claim construction, essentially putting to rest NCR's patent infringement suit against palmOne for its popular Palm and Handspring handheld devices. NCR's Patent Nos. 4,634,845 and 4,689,478 are directed to a handheld device and system employing such a device. The claims generally call for a handheld device having discrete display elements overlapped with discrete switches, along with control means and circuitry for interfacing with another device.
The Federal Circuit focused on the "plurality of discrete switches" and the closely related "means for entering data" elements. In an attempt to read on palmOne's resistive touchscreen technology, NCR argued that the "plurality of discrete switches" should be construed as "more than one individually distinct programmed device for indicating that one of alternative states or conditions have been chosen." The Federal Circuit rejected this "programmed device" definition, and instead adopted the district court's "physical switch" definition: "two or more distinct and separate manual or mechanically actuated devices for making, breaking, or changing the connections in an electric circuit." It based its decision on the claim language (which contradicted NCR's assertion that software integrated into the plurality of switches, rather than the "control means," handled variable user instructions), and the patent specifications, which showed an array of switches made of "a few plastic-film layers and strips of conductive material." Similarly, the Federal Circuit agreed that the "means for entering data," a means-plus-function element under 35 U.S.C. § 112 ¶ 6, was limited to the physical switches set forth in the patent specifications.
Marcus Thymian is a partner at McDonnell Boehnen Hulbert & Berghoff LLP in Chicago. Mr. Thymian is experienced in planning, creating, enforcing, and defending against patent portfolios, and was part of the team from McDonnell Boehnen Hulbert & Berghoff that represented Palm (now palmOne) before the Delaware District Court and on appeal. [Marcus Thymian's Bio]
LINKS: