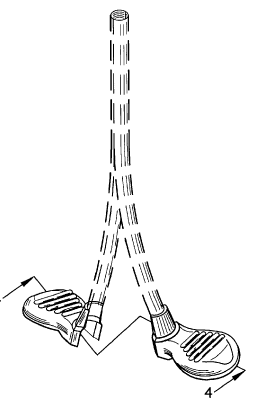 Junker v. Eddings & Galt (Fed. Cir. 2005)
Junker holds a design patent on a funny looking sheath used to insert catheters. Junker had been hired by the defendant to help design the catheters, and the defendant also obtained a patent on the device, but did not name Junker as an inventor.
The Texas jury found that Junker's patent was valid and that he had sustained $813,550 in damages, and the court awarded Junker this amount at final judgment. The district court also awarded Junker attorney fees of $275,000 under 35 U.S.C. § 285.
On appeal, the defendant argued that "no reasonable jury could have concluded that Junker was first to invent the design claimed in the patent." However, the court refused to hear the argument because the defendant "did not adequately raise the issue" in its post-trial JMOL motion. Thus, the Appellate Panel held that Galt cannot now pursue that contention.
The court did vacate the award of attorney fees because the district court did not adequately describe the reasons for the award.
As in Water Technologies, "we are unable to find sufficient support in the record to perform a meaningful review of the reasonableness of the attorney fees award." 850 F.2d at 674. Accordingly, as in that case, we vacate the award of attorney fees and remand to the district court for further proceedings. In so doing, we intimate no view on what would be a reasonable attorney fee, in this case — a determination that lies primarily within the discretion of the district court. We assume that the district court will fully explain the basis for any subsequent award of attorney fees it may make.
Judges: Newman, FRIEDMAN, Bryson