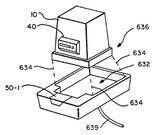 Asyst Technologies v. Emtrak (Fed. Cir. 2005).
Asyst sued several companies for infringement of its patented information processing system directed at an inventory management system used in the production of integrated circuits.
On appeal, Asyst argued that the lower court had improperly awarded summary judgment of noninfringement to two of the defendants Based on an ordinary meaning contextualized by the specification and prosecution history, the CAFC found that "mounted on" language of the claims should be given an ordinary, but not overly broad meaning.
The appellate panel took a step back when asked to determine whether a defendant was liable under the doctrine of equivalents.
Inasmuch as the district court has not addressed that question, we think that rather than address that issue ourselves, it is preferable to leave that question to the district court, which is conversant with the evidence proffered by the parties at the summary judgment stage.
AFFIRMED IN PART, VACATED IN PART, and REMANDED.