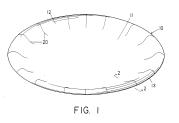 Fort James Corp. v. Solo Cup (Fed. Cir. 2005).
Fort James sued Solo for infringement of its patents on paper plates. After a trial, the jury found that the patents were not invalid but were likewise not infringed. Solo then sought attorney's fees and a counterclaim of unenforceability. The district court, however, dismissed Solo's counterclaim as moot after Fort James submitted a covenant not to sue on the patents at issue. Solo appealed that ruling.
On appeal, the CAFC reversed — finding that the "district court's literal application" of CAFC precedent was improper.
The district court erred as a matter of law in holding that it did not have jurisdiction to hear Solo Cup's counterclaim. The case is remanded for resolution of the issues properly before the court prior to its order to bifurcate, namely Solo Cup's claims of unenforceability on the basis of inequitable conduct and its request for attorney fees pursuant to 35 U.S.C. § 285.
Citing the recent Teva v. Pfizer case, Judge Schall argued in dissent that "Fort James's covenant not to sue eliminated any live case or controversy between the parties and thereby rendered Solo Cup's unenforceability counterclaim moot."