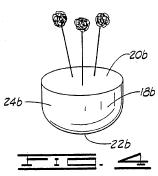 Prima Tek II v. Polypap (Fed. Cir. 2005).
Prima Tek and Polypap both sell disposable devices for holding flowers. Prima sued Polypap for infringement of two of its related patents.
After first construing the claims, the Southern District of Illinois court granted summary judgment of non-infringement to Polypap. That decision was reversed in 2003 based on an error in claim construction.
On remand, and after a bench trial, the district court found the patents not invalid and infringed and thus issued an injunction against Polypap. Now Polypap appeals the new claim construction. And, the CAFC has reversed once again, finding that the district court erred by adding a limitation to the term "floral holding material" that deviated from the term's ordinary meaning.
Based on the new construction, the CAFC determined that the claims were anticipated based on a piece of prior art considered during prosecution — thus deciding the case.
In a seeming jab at the Patent Office, the majority noted that the whole patent system "depends primarily on the Patent and Trademark Office's ("PTO's") care in screening out invalid patents during prosecution." In this case, the court found that the PTO had not lived up to its gatekeeper role.