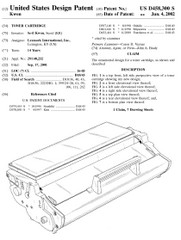 Arizona Cartridge Remanufacturers Assn. v. Lexmark Int'l. (9th Cir. 2005).
ACRA sued Lexmark for unfair business practices based on Lexmark's "prebate" program that allows customers to receive $30 off the price of a printer cartridge if they agree to return the empty cartridge to Lexmark — rather than allowing a third-party remanufacturer to refill the cartridge. ACRA argued that this practice was a restriction on alienability that should be barred.
The district court granted summary judgment in Lexmark's favor, finding that the restriction on further use was a valid agreement and that Lexmark's statements about the pricing were accurate.
On appeal, the 9th Circuit found that the post-sale restriction was allowable because the product was patented. (citing Monsanto v. McFarling). Post sale conditions are generally allowed if the good is "reasonably within the patent grant." The EFF filed a brief in the case that was largely ignored.
DDC Commentary:
For me, the interesting part of this opinion is that restrictions on alienation (resale/repair) of consumer goods are generally not enforceable unless the good in question is patented.
In the wake of this and other cases, pundits are predicting that we will be seeing more "shrink-wrap" licenses restricting repair and modification attached to products that might need repair or modification.
If you plan to take such an action, be sure that your product is patented. (Query — will a design patent be sufficient?)
Links to Further Commentary:
Documents: