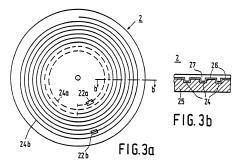 U.S. Philips v. International Trade Commission (Fed. Cir. 2005)
Philips owns patents on recordable compact discs including CD-R and CD-RW technology and offers licenses to various manufacturers in pools of "essential" and "nonessential. Several foreign manufacturers refused to pay and, upon Philips request, the ITC initiated an investigation.
During the investigation, the ITC administrative law judge found that the manufacturers infringed the claims of the asserted Philips patents but rules the patents unenforceable for patent misuse. Specifically, the judge ruled that the pooling arrangement constituted misuse because some of the "essential" patents were actually not essential.
Among the grounds invoked by the administrative law judge for finding patent misuse was his conclusion that the package licensing arrangements constituted tying arrangements that were illegal under analogous antitrust law principles and thus rendered the subject patents unenforceable.
In Philips first appeal, the Commission affirmed the judge's ruling, concluding that nonessential patents were impermissibly tied to essential patents because "none of the so-called essential patents could be licensed individually for the manufacture of CD-RWs and CD-Rs apart from the [essential] package."
Court of Appeals for the Federal Circuit, however, reversed, finding that the license pool was not patent misuse even if some of the pooled patents were nonessential.
[T]he Commission erred when it characterized the package license agreements as a way of forcing the intervenors to license technology that they did not want in order to obtain patent rights that they did.
The CAFC's decision relied on the theory that it would be "entirely rational" for a patentee who has an "essential" patent to "charge what the market will bear for the essential patent and to offer the others for free."
Thus, the CAFC held that that the Commission's application of both per se and rule-of-reason analyses to the package license agreement to be legally flawed.
REVERSED AND REMANDED