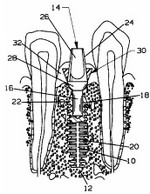 Bicon v. Straumann (Fed. Cir. 2006, 05–1168).
In a dispute over a dental implant, the CAFC today determined that the preamble of the asserted claims should be seen as limiting the claim scope.
While it is true that preamble language is often treated as nonlimiting in nature, it is not unusual for this court to treat preamble language as limiting, as it is in this case.
Here, the claimed preamble was quite extensive, and was written as follows:
An emergence cuff member for use in preserving the interdental papilla during the procedure of placing an abutment on a root member implanted in the alveolar bone of a patient in which [a] the abutment has a frusto-spherical basal surface portion and [b] a conical surface portion having a selected height extending therefrom comprising . . .
Under the rule expounded in RIM v. NTP, the preamble is limiting "if it recites essential structure that is important to the invention or necessary to give meaning to the claim." Here, the court found that the preamble "recites structural features . . . [and] it is apparent that the claim drafter chose to use both the preamble and the body of the claim to define the subject matter of the claimed invention."
Affirmed.