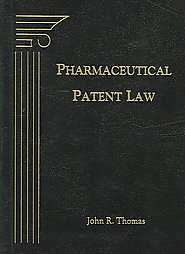 Pharmaceutical Patent Law
by Professor John R. Thomas (Georgetown).
December 2005
$355 from Amazon.com
Professor Thomas has written an excellent treatise that will be very well regarded for years to come. The book includes 600+ pages of text that is surprisingly readable plus a large appendix in CD form.
This is not primarily a textbook for law students. No, the book provides answers and focused analysis that a practitioner will find extremely useful. The focus of the book is clearly the interplay between patents and the FDA. However, the book also details the pharmaceutical patent prosecution process and particular litigation issues that are important in pharmaceutical patent litigation. The review on Amazon (link above) does a good job of describing the contents.
I have found the book useful and would recommend it to you as well.