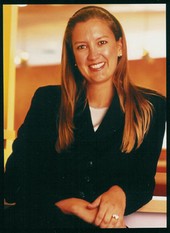 As predicted, the White House has sent Professor Kimberly Moore's name to the Senate as a nominee to be a United States Circuit Judge for the Federal Circuit — filling the spot of Judge Raymond C. Clevenger, III, who has retired.
This should make the CAFC Judicial Conference that starts on May 19 a bit more exciting.
Professor Moore has long been considered one of the handful of leading patent law professors, and is especially noted for her empirical research methods. In addition, Moore is co-author of a book on patent litigation along with CAFC Chief Judge Michel and she is the Editor-in-Chief of the Federal Circuit Bar Journal.
Although not a registered patent attorney, Moore holds a BS and MS from MIT in electrical engineering. Her masters thesis focused on chaos theory applied to electrical systems. She received her JD from Georgetown. Moore has been teaching law — and more specifically patent law — since completing her clerkship with Judge Archer at the CAFC. She also has trial experience from her associate days at Kirkland & Ellis.
My two-cents — Professor Moore is an excellent nominee. She is extremely intelligent, and has a complete understanding of the legal issues faced by the CAFC. You will find that her decisions will be fair and quick, and, I believe that her vast knowledge of the CAFC and its history will help her to craft opinions that reconcile some of the internal cracks that have surfaced the past few years. I hope that the Patent Bar and will stand with me in putting its weight fully behind this nomination.
Congratulations to Professor Moore!