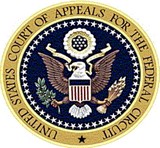 The CAFC has previously taken a hard-line against citation of nonprecedential opinions. In one case, the court threatened sanctions for future violations of its citation rules. However, in the wake of the Supreme Court's amendments to the Federal Rules of Appellate Procedure, the CAFC will begin to allow parties to cite the court's nonprecedential opinions. The proposed new CAFC Rule 32.1 reads as follows:
(c) Parties' Citation of Nonprecedential Dispositions. Parties are not prohibited or restricted from citing nonprecedential dispositions issued after January 1, 2007. This rule does not preclude assertion of claim preclusion, issue preclusion, judicial estoppel, law of the case, and the like based on a nonprecedential disposition issued before that date.

(d) Court's Consideration of Nonprecedential Dispositions. The court may refer to a nonprecedential disposition in an opinion or order and may look to a nonprecedential disposition for guidance or persuasive reasoning, but will not give one of its own nonprecedential dispositions the effect of binding precedent. The court will not consider nonprecedential dispositions of another court as binding precedent of that court unless the rules of that court so provide.
Any comments on the proposed rule changes are due to the CAFC Clerk by August 18, 2006.
The CAFC continues to issue many nonprecedential opinions. In my opinion, a significant number of these opinions should instead be precedential. As an example, in today's case of Bennett Regulator v. Canadian Meter, the CAFC issued a 13 page nonprecedential opinion that included a dissent by Judge Mayer. The case involved the difficult question of whether a pre-filing, but not-fully-enabling public disclosure can invalidate a patent. This one should be precedential.
Prior Discussion: