The Patently-O daily full-text e-mailer is a great resource, but it has one major problem — The e-mail readers miss the extensive commentary posted by other Patently-O readers. Over the past year, Patently-O readers have transformed the site from a primarily one-way resource into a rich community. The growth of reader comments is shown below (Graph).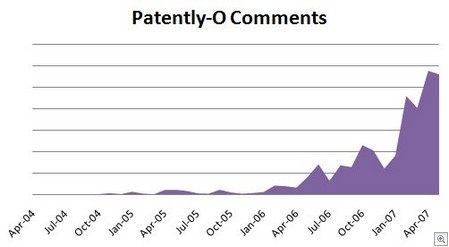 Although only about 1/3 of the comments contain high-level useful commentary, this is still above-average for lawyerspeak. Like most readers, the comments also arrive primarily during business hours. (Graph).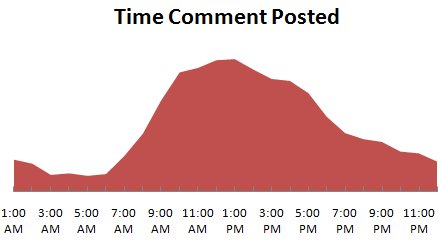 As might be expected, the majority of comments are written under pseudonyms. Of the top-ten most frequent commentators, it appears that only one uses his real name: Michael Slonecker — a patent attorney primarily retired from practice. Malcolm Mooney, an anonymous and acerbic patent attorney is leading the pack with over 600 comments. [Mooney is likely ascorbic as well]
When comments are posted, I receive an e-mail with your IP address. Based on those addresses, the majority of comments come from law firms, quickly followed by government agencies (US Courts, USPTO, FAA, etc.) and businesses. There is also a large group of comments associated with more generic ISPs (Verizon, Comcast, AT&T, etc.).
Three comment related projects:
Threading of comments so that you can more easily follow various posts.
Ranking of comments (as on SlashDot) so that you can exclude low-ranking posts.
A comment [RSS] feed. So that you can more easily follow the most recent comments. (Thanks to Adam Kessel

for this idea)
Of course, I do all the programming and configuration for Patently-O — Let me know if you have easy solutions for any of these projects! dcrouch@gmail.com.