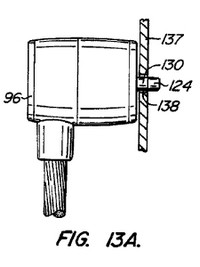 ACCO v. ABA Locks and Belkin (Fed. Cir. 2007).
ACCO's patent covers a method for locking a computer. Belkin's lock can be used in an infringing manner (as well as in a non-infringing manner). At trial Belkin and ABA were found liable for willfully inducing infringement.
Inducement requires an underlying direct infringement; some action to encourage the direct infringement; and specific intent to encourage the infringement. Direct infringement requires either evidence of "specific instances of direct infringement" or proof that using accused device "necessarily infringes."
Here, ACCO provided no evidence that any customer (apart from the expert witness) ever used the lock in an infringing manner. And, although the arguably "most natural" way of using the lock would infringe, there were other non-infringing ways of using the lock. (Belkin described a non-infringing use in its instruction manual).
The court suggested that a customer survey or other customer testimony would have been appropriate.
Based on ACCO's failure to prove direct infringement, the CAFC reversed — finding no infringement.
Notes:
This decision is a reminder to litigators, not anything new.