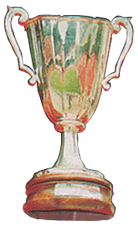 The conservative British publication, Intellectual Asset Management (IAM) Magazine, sponsors an annual induction ceremony into the IP Hall of Fame. This years induction will be part of the Ocean Tomo Fall Auction in Chicago next month. However, IAM has released the names of winners already. Some highlights:
Judge Pauline Newman (Federal Circuit Judge)
Kevin Rivette (of Rembrandts in the Attic)
Gerald Mossinghoff (Former USPTO Commissioner)
Jerome Gilson (of Gilson on Trademarks)
Karl Jorda (Franklin Pierce Law Center)
Joseph Straus (Max Planck Institute for IP)
Hugh Laddie (All around UK IP Bigwig)
Hisamitsu Arai (Former Japanese Patent Office Commissioner)
I am a voting 'academy member' of the Hall of Fame along with a host of better qualified intellectual property leaders.
Notes: