Wleklinski (dba Comfort Strapp) v. Targus (Fed. Cir. 2007) (Non-Precedential).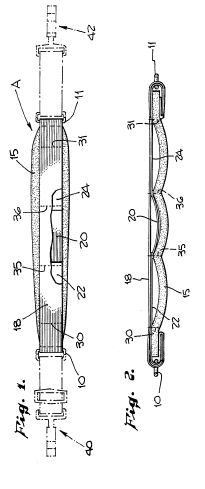 In March, 2007, the Central District of California dismissed Comfort Strapp's complaint on summary judgment — finding no proof of infringement. Comfort Strapp's patent relates to a comfortable shoulder strap for luggage.
The fight was over the construction of an "auxiliary strap means" limitation that requires the strap's end sections be "made of a relatively non-stretchable material" and the strap's center section be "made of [stretchable] material." Because the Targus auxiliary strap was made of a single material, the CAFC agreed that it could not literally infringe.
Doctrine of Equivalents: Accused products that exhibit only 'insubstantial differences' from the claimed patent may also be considered infringing under the doctrine of equivalents. (DOE). However, the DOE cannot apply where it would vitiate a claim limitation.
Here, the Federal Circuit panel agreed that as a matter of law, the doctrine of equivalents does not allow a claimed two-material strap to encompass a strap made of only one material. According to the appellate panel, such a reading would be "the fundamental opposite of the claimed invention." Citing Freedman Seating.
Notes: Although the court's trend to limit the doctrine of equivalents began well before the Supreme Court's KSR ruling. The bulked-up nonobviousness test naturally reduces the scope of the doctrine of equivalents as the DOE cannot extend to cover variations that would have been obvious at the time of patenting.