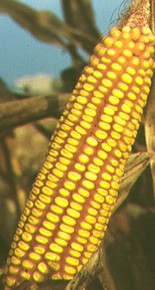 Monsanto v. Bayer (Fed. Cir. 2008)
Bayer holds several patents relating to genetically modified Bt corn. This case arose when Monsanto sued Bayer in Missouri for a declaratory judgment stating that the patents were not infringed; invalid; and unenforceable. The Eastern District of Missouri Court (Judge Webber) held all the patents unenforceable due to inequitable conduct during prosecution. On appeal, the Federal Circuit affirmed the holding of unenforceability.
Bt corn contains a gene that codes for Bt toxin — an insect repellent protein found naturally in Bacillus thuringiensis (Bt) bacteria. Bayer's patents cover the chimeric Bt-plant-promoter gene; plant cells expressing Bt toxin; plants expressing Bt toxin; and the method of modifying plants to express Bt toxin.
Notes from a Conference: Before Bayer's patent application, another scientist (Dr. Wayne Barnes) attended a conference and presented a poster on Bt genetic issues. One Bayer scientist attended the conference and took extensive notes from the poster. Those notes were given to other Bayer Bt scientists including the individual responsible for prosecuting Bayer's patent applications.
During prosecution, Bayer submitted Dr. Barnes Abstract, but did not submit the notes. According to the court, those notes were material because they provided evidence of Dr. Barnes disclosure. (A reasonable examiner would have considered them "important in deciding whether to allow the … application"). The inference of intent was easily made since Bayer took a position at the PTO that was directly refuted by information contained in the note.
Not Prior Art: One important – but unstated – aspect of this case is that the notes are not prior art. Rather, in this case the prior art was the publicly displayed poster. Thus, the reminder: Rule 56 requires submission of prior art as well as information about the prior art that is either (1) material to patentabilty or (2) a reasonable examiner would consider important in deciding whether to allow the application.
Declaratory Judgment Power: Monsanto filed its DJ action against four Bayer patents. In response, Bayer provided a "statement of non-liability" along with a promise not to sue Monsanto on three of the patents. Under CAFC precedent, such a statement normally removes a court's jurisdiction over those patents — except where, as here, the court retains separate jurisdiction based on a Section 285 request for attorney fees. Thus, because the patents are still before the court, it retains jurisdiction to hold them unenforceable. In addition, the CAFC noted that the recent Nilssen case also allows a court to hold patents unenforceable even after being dropped from the lawsuit.