by Seth Shulman
I thank Dennis Crouch for letting me tell Patently-O readers directly about my latest book, The Telephone Gambit: Chasing Alexander Graham Bell's Secret
out this week from W.W. Norton.
The book recounts my experience, while working for a year as a fellow at MIT's Dibner Institute for the History of Science and Technology, of stumbling upon evidence that reveals a twisted mystery surrounding Alexander Graham Bell's role in the invention of the telephone. Working from Bell's laboratory notebooks and his voluminous correspondence, I soon found myself caught up in the surprising story behind the invention of the telephone: a tale of romance, unchecked ambition—and corruption at the U.S. Patent Office.
In the book, I try to capture the feel of the rich and exciting time in which Bell lived at the second half of the 1800s. This was, after all, one of the true golden ages of invention. As Thomas Hughes notes in his classic historical work American Genesis, the number of U.S. patents issued each year during this period rose astronomically. Consider, for instance, that the U.S. Patent office issued 688 patents in 1846 but, by 1890 was issuing more than 26,000 annually. Talk about dramatic technological change!
The rapid technological change emerging in a Victorian, horse-and-carriage era serves as the backdrop for my tale, but the focus of the book is tight: I wrote it as a kind of a nonfiction detective story, recounting my own story of becoming relatively obsessed with chasing down clues about Bell's life and times in rare archives and artifact collections around the world to unravel the surprising and long-hidden truth about him.
In the course of my research, I unearth a "smoking gun" that leaves little doubt that Bell furtively—and illegally—plagiarized his initial telephone design from his major competitor, Elisha Gray in his quest to secure what would become the most valuable U.S. patent ever issued. It is shown below. The sketch circled at the right appears in Alexander Graham Bell's notebook on March 8, 1876, two days before his famous success calling to Watson in the next room. The circled inset on the left is a confidential patent filing (then called a caveat) rival inventor Elisha Gray had made at the U.S. Patent Office three weeks earlier.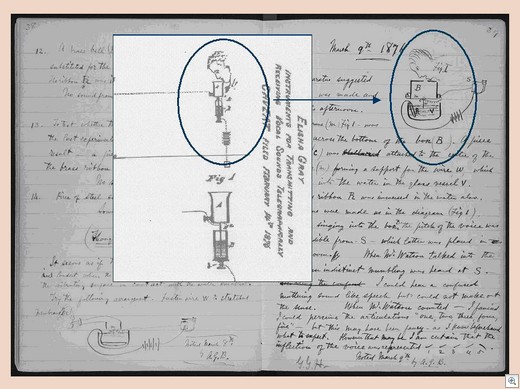 This is not the denouement of the story, but rather its start. When I discovered this connection, I decided to go back to all the primary documents to learn what I could about how Gray's elegant and successful liquid transmitter design for the telephone could have ended up in Bell's laboratory notebook. I wanted to know whether it could possibly be true that Bell plagiarized the telephone, how he could have gotten away with it, why Gray wouldn't have contested his claim, and why we remember history the way we do. I shed light on all these questions as the story unfolds.
Reviews are just starting to come in and they mostly very gratifying. Barnes & Noble Review just wrote "It'll be stacked in the science shelves, but The Telephone Gambit might be an early contender for best thriller of the year…Shulman pulls it off, producing a book that's rigorous, provocative, and, like any thriller worth its salt, a blast to read." I hope the many readers of this site with expertise in patenting will give the book a look and feel free to share their perspective about the story with me via my website www.sethshulman.com.