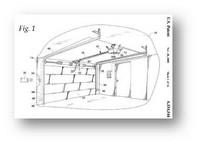 Chamberlain Group v. Lear Corp. (Fed. Cir. 2008)
Chamberlain's patent is directed to improved security for remote garage door controls. After an initial claim construction, the N.D. Ill. court granted summary judgment for Chamberlain and issued a preliminary injunction.
A major point of contention was the claimed "binary code" limitation. In a portion of its system, Lear used a three-symbol (trinary) code. Of course the underlying processor is binary and thus encodes the trinary code as binary numbers. In its preliminary injunction decision, the lower court held that Lear likely infringed because of the trinary coded binary numbers.
De Novo Review: On appeal, the CAFC reversed, but only after noting that the "district court commendably strove to follow this court's rules for claim construction." In particular, the CAFC found in its de novo review that the specification requires a finding that a trinary code is not a binary code even though it is stored in binary format.
De Novo Preliminary Injunction: A preliminary injunction requires a showing that the patentee has a strong likelihood of success on the merits of the case. Because a showing of success on the merits depends upon the claim construction, the appellate panel held that reversal on claim construction will almost always lead to vacatur of a preliminary injunction. I.e., "A correct claim construction is almost always a prerequisite for imposition of a preliminary injunction."
Preliminary Injunction Vacated.
Notes:
This decision is important because it shows how de novo review of claim construction can de-stable holdings that are otherwise reviewed only for clear error.