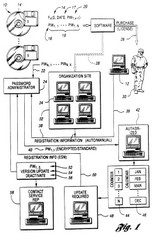 Microsoft Corp. v. z4 Tech. (on petition for certiorari 2008)
After a jury verdict that z4's patent was infringed and not invalid, the Eastern District of Texas district court ordered Microsoft to pay over $100M in damages to the patentee (a small Michigan company) The award was affirmed by the Court of Appeals for the Federal Circuit (CAFC).
Now, Microsoft has asked the Supreme Court to hear its case. The appeal focuses on the CAFC's hard-line stance of requiring "clear and convincing evidence" to invalidate a patent even when a defendant presents evidence of invalidity that was not considered by the PTO. The question presented is:
When a defense of invalidity under Section 282 rests on documentary evidence that was not considered by the United States Patent and Trademark Office, whether the factual predicates of the defense must be proved by "clear and convincing evidence" or some lower burden of proof.
According to Microsoft's brief (filed by Ted Olson), prior to the founding of the CAFC, "all twelve regional circuits" required a lower evidentiary burden when the invalidity argument "rests on evidence that the PTO never had an opportunity to consider." The petition also uses KSR as a hook — in that case, the Supreme Court stated in dicta that the "rationale underlying the presumption [of validity is] that the PTO, in its expertise, has approved the claim." In KSR, the court found the rationale "seem[ed] much diminished" because the references were unavailable to the PTO during prosecution.
In KSR, the Supreme Court truly did beg the question of whether the standard for proving invalidity should be lessened in certain cases. In its decision here, the the CAFC held the line, by quoting an old Uniroyal case: "The burden of proof is not reduced when prior art is presented to the court which was not considered by the PTO."*
A weak point of Microsoft's petition is that its claim for invalidity falls under 102(g). Microsoft is arguing that its own non-published prior invention should invalidate the z4 patent. (Specifically, Microsoft's asserted prior art was included in a Brazilian version of Publisher). 102(g) cases provide additional rationales for a high evidentiary standard: 102(g) prior art is generally less trustworthy because the asserted prior art was not public but rather emerges from the accused infringer's files at the opportune time. In addition, lowering the standard for 102(g) prior art encourages potential defendants to keep their developments in secret rather than publicly disclose them or present them to the PTO. The same issues arise from non-documentary prior art, such as evidence of prior use. In its question presented Microsoft attempts an end run around the issue by focusing on "documentary evidence."
Related Notes: