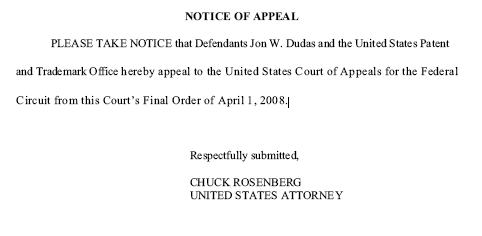 The Patent Office has filed a notice of appeal in the case of Tafas v. Dudas. This case involves the PTO's attempt to limit the number of continuation applications and the number of claims per patent that may be filed based on an original disclosure. In April, 2008, District Court Judge Cacheris granted plaintiffs motions for summary judgment — finding that the new rules are an improper extension of the PTO's statutory authority.
"Because the USPTO's rulemaking authority under 35 U.S.C. § 2(b)(2) does not extend to substantive rules, and because the Final Rules are substantive in nature, the Court finds that the Final Rules are void as 'otherwise not in accordance with law' and 'in excess of statutory jurisdiction [and] authority.' 5 U.S.C. § 706(2)."
The appeal will be heard by the Court of Appeals for the Federal Circuit. The basis of the original declaratory judgment action is that the PTO's proposed rules violate the PTO's limited rulemaking authority granted by 35 U.S.C. § 2(b). Thus, there is no question that this case arises under the Patent Act and, consequently, that the Federal Circuit has exclusive jurisdiction on appeal.
Notes: