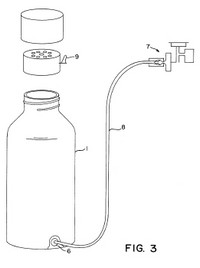 Innovation Technologies v. Splash! Medical Devices (Fed. Cir. 2008)
Innovation holds a patent for washing flesh wounds (U.S. Pat. No. 5,830,197) and sued Splash for infringement. In the midst of discovery (but before a Markman hearing) Innovation decided to end the litigation and executed a covenant not to sue Splash. Before dismissing the case, the district court awarded $140k in attorney fees to the accused infringer — finding the case "exceptional" because Innovation knew or should have known "that its infringement claims were baseless." Innovation left the district court with the impression that "the lawsuit was filed solely for the purpose of harassing a small competitor."
In its decision, the district court provided only three sentences of legal conclusion without listing the factual basis for finding the case exceptional. [District Court Decision]
On appeal, the CAFC vacated in an opinion that reads like a reprimand. Quoting extensively from earlier opinions, the appellate panel demanded that lower court spell out the particular reasons why a case should be found exceptional:
'"A district court must provide reasoning for its determination that a case is exceptional for us to provide meaningful review. Further, an exceptional case finding is not to be based on speculation or conjecture but upon clear and convincing evidence." Stephens v. Tech Int'l, Inc., 393 F.3d 1269, 1276 (Fed. Cir. 2004) (citations omitted). . . .

This court could itself comb the record and answer those questions. That is not the normal appellate function, however, and we conclude that the proper practice here is for the district court initially to make the necessary findings on these issues. "[W]hen findings are required on the exceptional case issue such finding must initially be the province of the district court." Consol. Aluminum Corp., v. Foseco Int'l Ltd., 910 F.2d 804, 814 (Fed. Cir. 1990). . .

Accordingly, the district court's determination that this is an exceptional case and its award of attorneys fees are vacated, and the case is remanded to that court to make additional findings in accordance with this opinion. . . . If the court again concludes that this is an exceptional case and that it should award attorneys fees, it should also explain the reasons for the latter conclusion.
Vacated and Remanded.