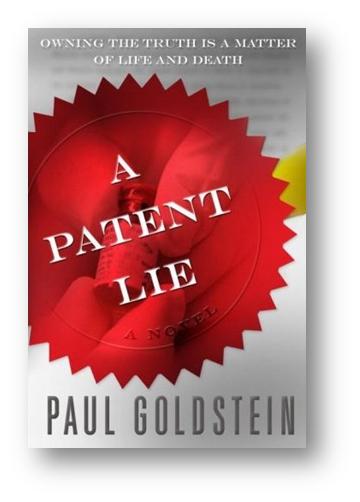 Review by Professor Shubha Ghosh
A Patent Lie

A Novel by Paul Goldstein
For those who are planning a summer trip, especially those IP-geeks who cannot completely get away from work, make sure to pack a copy of Paul Goldstein's latest A Patent Lie
. Like his first novel, Errors and Omissions, published two years ago, this new legal thriller transforms intellectual property practice into a tale of murder and conspiracy.
I had heard a rumor that Goldstein's second novel would be about a Markman hearing. Fortunately, the proceeding plays only a small part in the story which involves Buffalo attorney Michael Seeley (referred to as Seeley throughout the book) being called to the Bay Area by his brother to represent a South San Francisco start-up in a patent infringement suit against a Swiss pharmaceutical company. All of this is a routine matter except that previous counsel met an early demise (called a suicide) under a commuter train. Patent litigation often is not a matter of life or death, but adding to the tension is the patent at issue in the case, which covers a treatment for AIDS. But unlike the global corporate conspiracy at the heart of another recent novel dealing with pharmaceuticals, The Constant Gardener, at stake in A Patent Lie are the details of litigation, which rise above the mundane with the personal, political, and professional relationships that Goldstein depicts compellingly.
At one point in the novel, a character notes that "not only are cases mostly about facts, but no facts are more important than the personalities of the participants." And it is the personalities that drive the story here. Michael Seeley, Goldstein's protagonist who appeared in the first novel, is the world weary East Coaster, retreating to his home town of Buffalo, New York, to deal with professional and personal crises. The West Coast offers temptations represented here by Seeley's brother whose involvement in the start-up and the law suit becomes more diabolical by degrees. Temptations also beckon in the character of Lily Warren, a brilliant research scientist who may or may not have been the first to invent the invention in dispute. I doubt that priority disputes have ever taken such inscrutable, or romantic, turns. The law suit takes several twists with an important reversal of interests occurring at the end. Finally, the pushes and pulls on Michael Seeley force him to confront many tensions: his rivalry with his brother, the ethical conundrums of suing a competitor, and the role of a patent lawyer within the patent system.
The book is a real treat for those who like intellectual property (despite the anti-patent message of the book) and may offer something for the generalist reader who likes to get lost in a legal thriller while basking in the summer sun. After reading Goldstein's latest, try his first book, which manages to make copyright clearance somewhat riveting. Let me also recommend Killer Smile
'>Lisa Scottoline's Killer Smile, another legal thriller involving patent law.
So what will Goldstein's next thriller be about? Antidilution? Misappropriation? Exhaustion? The Unpredictability of Fair Use? Whatever the topic, I am sure it will add color to the black letter of intellectual property law.