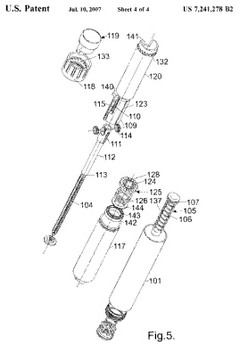 Novo Nordisk v. Sanofi-Aventis (Fed. Cir. 2008) (nonprecedential)
Novo sued Sanofi alleging infringement of its patent covering an insulin pen. In a Feb 19, 2008 order, the district court denied Novo's request for a preliminary injunction – finding that Sanofi has a strong non-infringement argument. On appeal, the CAFC quickly affirmed.
The decision to not issue a preliminary injunction rests within the discretion of the district court.
We will reverse such a decision only when an appellant demonstrates that the "factors relied on by the district court [were] clearly erroneous" and "that a denial of the preliminary relief sought would amount to an abuse of the court's discretion upon reversal of an erroneous finding." New Eng. Braiding Co. v. A.W. Chesterton Co., 970 F.2d 878 (Fed. Cir. 1992).
In this case, the district court did not construe the claims prior to denying the PI request. It did note, however, that "questions exist" as to whether the patented invention requires direct gearing and a non-rotatable piston — elements not found in the accused product.
In its appellate decision, the CAFC found that the lower court had acted properly in denying the PI request without deciding the claim construction issue:
At the preliminary injunction stage, however, it is irrelevant whether this case presents greater issues of claim construction or validity—the existence of one or both of these issues is sufficient to justify the district court's decision to deny a preliminary injunction.
Affirmed
Note: My former firm, MBHB, represents Sanofi-Aventis in this appeal.