Late Requests for Patent Term Extension: An earlier post noted that the PTO had rejected AstraZeneca's request for a patent term extension because it was filed one day late. Interestingly in its filing, Astra found 14 other PTE requests that were filed on the 61st day and were still granted: 5,827,937 (RESTYLANE); 5,639,639 (Luveris); 5,532,221; 5,441,745; 4,941,093; 4,874,749; 4,836,217 (ALLERGEN PATCH); 4,830,010; 4,702,253; 4,513,006; etc.
The following histogram shows the distribution of patent term extensions granted by the PTO. The average extension is just over 2 1/2 years. The PTE list includes about 100 patents that would have expired already, but are still in force due to the extension. See http://www.uspto.gov/web/offices/pac/dapp/opla/term/156.html.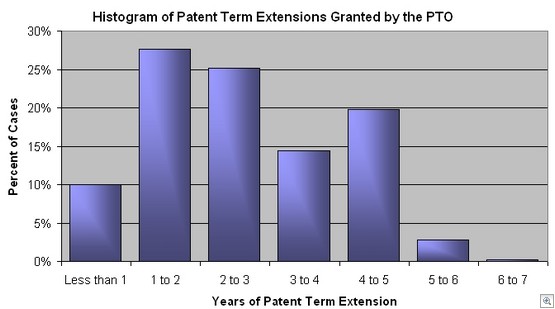 Question: The CAFC reviews BPAI factual findings for substantial evidence. If an applicant appeals a Board ruling to a district court, how does that court treat the BPAI's facutal findings? (Please cite a case or give your experience)
SC Law Review: When I was born, my dad was attending USC — that's right the Gamecocks of South Carolina. The South Carolina Law Review transforming to a a peer review journal and is looking for help & comments. http://www.sclawreview.org/peerreview/index.php.