In re Stauffer (Fed. Cir. 2008) (nonprecedential)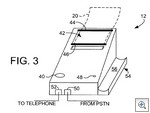 This is a nice idea: A device for automatically printing out caller ID records. What I prefer (and have used in the past) is to receive an e-mail receipt for all incoming calls and with messages attached in an mp3.
SEI (the party in interest) has a simple enough claim:
1. A caller ID printing device, comprising:

a controller configured to detect caller ID information from an incoming call; and
a printer configured to automatically print the caller ID information; and
a message template onto a call record immediately after the first receipt of a first ring signal and without user intervention.
The BPAI rejected the claim as obvious. On appeal, the CAFC reminded the applicant that the BPAI's underlying factual determinations need only be supported by "substantial evidence."
'Substantial evidence is evidence that "a reasonable mind might accept as adequate to support a conclusion." In re Gartside, 203 F.3d 1305 (Fed. Cir. 2000). "[W]here two different inconsistent conclusions may reasonably be drawn from evidence in the record, an agency's decision to favor one conclusion over the other is the epitome of a decision that must be sustained upon review for substantial evidence." In re Jolley, 308 F.3d 1317 (Fed. Cir. 2002). This court will not determine that a decision made by the Board is unsupported "simply because the Board chose one conclusion over another plausible alternative." Id.'
In this case, the panel easily found that two references combined teach each element of the invention and render it obvious.