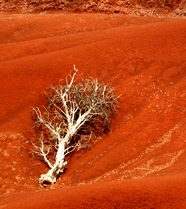 Dr. Voda v. Cordis Corp. (Fed. Cir. 2008)
Dr. Voda's case is an exciting tale of an individual inventor litigating against a major corporation in the red sandy soil of western Oklahoma.
A jury found that Cordis catheters infringed Voda's patents and adjudged a reasonable royalty to be 7.5% of gross sales. The jury also found the infringement willful and the patents not invalid. The district court then affirmed the jury verdict but denied Voda's request for injunctive relief.
Claim Construction: Voda's claim included the requirement that the catheter be engaged "along a line" of the aorta. The district court, however, found that the claim is not limited to linear portions of the aorta. On appeal, the CAFC confirmed the construction — reminding us that "the context in which a term is used in the asserted claim can be highly instructive." Phillips. When engaged, it is clear that the catheter may curve along the aorta.
The specification does indicate that the "present invention [includes a] straight portion." However, the CAFC refused to see that statement as a "clear disavowal of claim scope" because the specification discusses other instances where the same portion could be curved.
Doctrine of Equivalents: Cordis had redesigned some of its products to avoid literal infringement. However, these were found to infringe under the Doctrine of Equivalents. In particular, a "second straight portion" claim element was not literally found in the Cordis products, but the jury found that the products did include an equivalent element.
At the court's option, either of two tests of equivalent may be used:
Under the insubstantial differences test, "[a]n element in the accused device is equivalent to a claim limitation if the only differences between the two are insubstantial." Honeywell Int'l Inc. v. Hamilton Sundstrand Corp., 370 F.3d 1131, 1139 (Fed. Cir 2004). Alternatively, under the function-way-result test, an element in the accused device is equivalent to a claim limitation if it "performs substantially the same function in substantially the same way to obtain substantially the same result." Schoell v. Regal Marine Indus., Inc., 247 F.3d 1202, 1209-10 (Fed. Cir. 2001).
The CAFC looked to Voda's experts to find evidence of insubstantial difference. In particular, Voda's expert testified that the Cordis "curve portion" was essentially straight and that "cardiologists would have difficulty distinguishing the two during use." In addition, Voda introduced evidence that the Cordis curve portion "performed the same function as a straight portion, in the same way, to achieve the same result. . . . Accordingly, we affirm the jury's findings of infringement with respect to these claims."
Notes:
EBay: Voda argued for an injunction based on the irreparable harm to its exclusive licensee. The CAFC rejected that justification — finding that the irreparably harmed must be the party seeking the injunction.
Seagate: The CAFC vacated the willfulness finding that was based on pre-Seagate law.
Festo: The CAFC did find that some of Voda's claims were not infringed under the DOA. Those claims had been narrowed during prosecution and were subject to prosecution history estoppel.
Prior Appeal: In the 2007 appeal in this case, the CAFC held that Voda could not assert its foreign patents covering the same product in US courts. [LINK]
See Lemley & Allison: THE (UNNOTICED) DEMISE OF THE DOCTRINE OF EQUIVALENTS