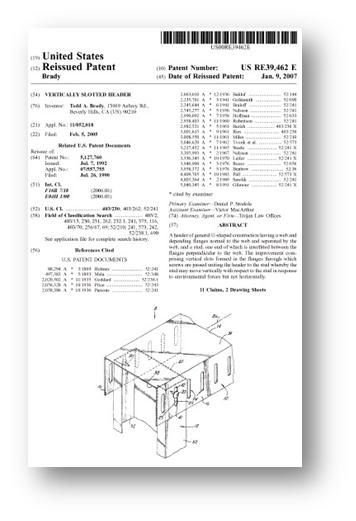 Brady Construction Innovations v. Perfect Wall (Fed. Cir. 2008) (Non Precedential).
This case is simple. Brady filed for a reissue more than two years after the patent issued. The reissue broadened the claims. Those claims are therefore invalid.
Brady's original patent issued July of 1992. After losing an infringement action in 2003, Brady filed for a reissue patent. The reissue patent issued as RE39,462 in 2007 and Brady again filed suit. The patentee's press release at the time tells the story:
"Previously, the Court of Appeals had limited the original slotted track patent in a way that Brady never intended. This new patent removes the limitation recently imposed by the Court of Appeals. From this date forward, anyone who manufactures and sells [any style of] slotted track will infringe Brady's new patent regardless of how the slotted track is installed."
35 U.S.C. 251 spells out the guidelines for reissue patent applications. Generally, a reissue is available to correct an error made by the patentee. Although the statute specifically allows a reissue to correct an error in "claiming more or less than he had a right to claim in the patent," the statute also places a strict two-year time limit on enlarging the scope of any claims.
"No reissued patent shall be granted enlarging the scope of the claims of the original patent unless applied for within two years from the grant of the original patent."
Any enlargement in scope of any claim element will generally run afoul of the limitation. In particular, the CAFC has repeatedly held that a claim will be considered to be enlarged under Section 251 if "it contains within its scope any conceivable apparatus or process which would not have infringed the original patent. A reissue claim that is broader in any respect is considered to be broader than the original claims even though it may be narrower in other respects."
Here, based on the construction of the original patent by the CAFC, it was clear that the new claim had been broadened – rendering it invalid.