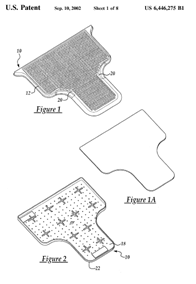 Wright v. Renaldo, 279 Mich. App. 526 (Mich. Ct. App. 2008)
Wright sued Renaldo and her firm for legal malpractice involving the prosecution of his patent directed to an absorbent mat. Renaldo allegedly erred in (1) failing to remove the name of an originally listed co-inventor; (2) "improperly drafted documents submitted to the patent office, and (3) failed to recognize and take steps to correct the patent because it did not adequately protect Wright's invention."
Without reaching the merits of the malpractice claim, the court agreed that the claim was barred by a Michigan two-year statute of limitations. Under Michigan law, a plaintiff "must file a legal-malpractice action within two years of the attorney's last day of service to the plaintiff or within six months of when the plaintiff discovered or should have discovered the claim, whichever is later." Here, there was evidence that Wright had been planning a malpractice claim for over two years after White revoked her power of attorney and hired different counsel.
A dissenting judge argued that the two-year time line had not expired because Renaldo had not learned of the revocation of the power of attorney until much later.
Although the patent attorney won this case, it should serve as a reminder to counsel to promptly memorialize a disengagement.