[Read Tim Wilson's Paper] Tim Wilson (Senior IP Counsel at SAS US) has been concerned about patent quality for some time. In part, the sheer number of patent applications being filed creates a host of problems. Wilson's solution is to raise patent fees – he says the fees should go as high as $50,000 for large corporate applicants. The result – according to natural tendencies of supply and demand – is that fewer applications will be filed and fewer patents will issue. In all likelihood, however, those that are filed will be better applications covering higher quality inventions.
Wilson did not simply pull his $50,000 figure out of his ear. Using the powerful computing resources of SAS, Wilson calculated an estimated demand curve for patent applications using both (1) historical filing reactions to increases in PTO fees and (2) an assumption that the budgets of corporate patent departments is fairly inelastic. Wilson then created his Figure 5 – showing the demand curve for patent applications drawn with respect to the patent application fees.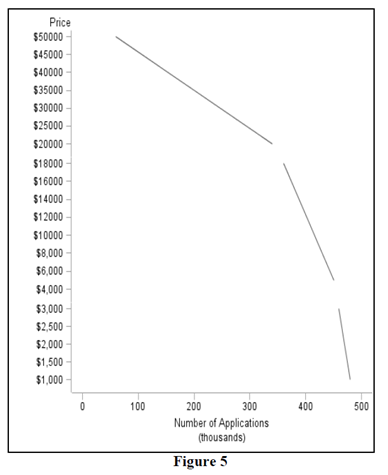 Wilson's approach is admittedly only an estimate, but his intuition has to be correct that a dramatic increase in PTO fees would lead to a dramatic decrease in PTO filings.
An average high technology patent contains a minor improvement on a small portion of a product and the patent application is typically written using outside counsel working for a flat fee of a few thousand dollars. Imagine what would happen to the high technology company's patent process if each patent application cost $50,000 just to file. The high technology company would file far fewer, but more important patent applications and they would spend more time and effort doing so. The pharmaceutical company's process probably would not change much because a billion dollar decision depends on the outcome of the patent process.
What would happen to non-practicing entities, sometimes derisively referred to as patent trolls? I believe that these entities will change to patent market facilitators, or cease to exist. When the value of all patents is increased substantially, it is very unlikely that any patent will be available to fall to these non-practicing entities. First, each individual patent will be more valuable to the current owner of that patent, so it will be less likely that an owner would be willing to part with it to a troll. Second, if a company does fail, competitors of that company may be more willing to buy that patent rather than allow it to fall to a company that may sue the competitor. Finally, fewer issued patents mean that it will be easier for companies to monitor patents issuing in their product space and less likely that they will allow those patents to fall into the hands of a troll.
DDC Comment: Wilson's proposal has some merit, and his work on the demand curve is especially interesting. However, the proposal suffers from three fundamental problems: First, the proposal implicitly equates economic value with technologic value – the two are related but different. Many important technical advances have only limited economic value, but still serve as building blocks for future advances. (i.e., standing on the shoulders of giants). Second, the proposal greatly favors technologies where the economic value is well known up front. Again, many important technologies are eventually found valuable – but the very high up-front price will greatly limit those applications – and consequently, the upstream incentive to innovate in that area. Third, the proposal favors firms with cash – i.e., those that have performed well in the past and have saved their money. However, many innovation experts believe that most of the breakthrough work comes from these mainstream companies. To his credit, Wilson addresses this problem by stating that the high-price only applies to large companies. However, that approach would tend to allow the "non-practicing entities" to continue to obtain patents (against one of Wilson's primary goals). In addition, the prospect of small entities paying only $500 while large entities pay $50,000 would surely lead to other political and practical problems.