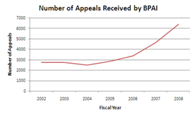 In two earlier posts, I discussed the BPAI reversal rate (link) and the reopening of prosecution after a reversal (link). In the reversal rate, I also looked at the historic jump in the absolute number of BPAI appeals filed. In FY2008 (ending Sept 30, 2008), the BPAI received over 6,000 ex parte appeals– concluding two consecutive years of over 35% annual growth rate in appeal filings.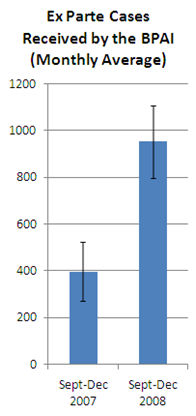 Although dramatic, the reported filing increases pale in comparison to those seen in the past four months. The BPAI reports that in the period of Sept-Dec 2008, it received an average of 954 ex parte appeal cases per month. That value is well more than double the monthly average for the same span in 2007.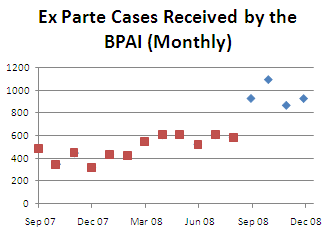 At this rate, the number of BPAI appeals would easily reach 10,000 in FY2009.
The planned BPAI rule changes may explain at least part of the sudden jump. In a recent presentation, William Smith of Woodcock Washburn stated that the new rules are "onerous and will significantly increase the cost of preparing an Appeal Brief." [Link]. I have spoken with several patent attorneys who intentionally filed appeal briefs early in order to beat the December 10 deadline. That deadline has now been postponed. If the rules truly are onerous, then we may see a drop in appeals once they become effective.