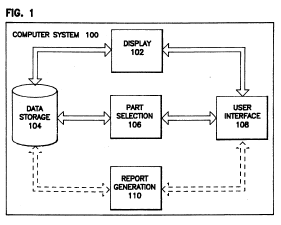 Erich Spangenberg has at least two pending appeals at the Federal Circuit: Taurus IP v. Daimlerchrysler (and Hyundai) and Orion IP v. Hyundai Motor. In the Taurus case, the Wisconsin District Court found the asserted patent (6,141,658) invalid and also asserted jurisdiction over Spangenberg and Orion IP via a veil-piercing theory. In a recent order, the Federal Circuit properly refused to allow Chrysler and Mercedes to present argument and documents "in camera" in that case. [Link] In the Orion case, a Texas court found Hyundai liable for infringement of the asserted patent (5,367,627) and awarded $34 million in damages. Hyundai has posted $25 million bond to stay the full payment until the appeal is concluded. [LINK ]. The general rule is that money damages will be stayed pending appeals if bond is posted, and that injunctive relief might be stayed.
The '627 patent is patent reformer's poster child for damages reform. The patent covers a method that helps a sales clerk properly order the parts that match a customer's needs. It is hard to know what the value of the incremental invention as compared with the prior art back in 1989 when the original application was filed. I will note that the $34 million patent has only 15 claims and includes means-plus-function language in the claims. Claim 1 of the patent is reproduced below:
1. A computerized method of selling parts for particular equipment specified by a customer, comprising the steps of:
a) receiving information identifying a customer's parts requirements for the equipment, comprising the step of receiving equipment application information, comprising an identification of the equipment with which one or more parts are to be used;
b) electronically specifying information identifying a plurality of parts and specifications for the parts;
c) gathering parts-related information for one or more parts within the plurality of parts which meets the customer's requirements, comprising the step of electronically associating at least one of the parts within the plurality of parts with the received equipment application information; and
d) receiving the gathered parts-related information and compiling the parts-related information into a proposal meeting the customer's requirements.
Although the '658 patent does not claim priority to the earlier '627 patent, it does have one overlapping inventor and a large amount of overlapping scope.