In an earlier post, I introduced some data relating to patents that discuss Microsoft somewhere in the patent document. That post showed that almost 5% of newly issued patents refer to the software giant in some way. That data also showed a strong upward trend over time. The post received a few interesting comments as well as a few suggestions. [LINK] In response, I have added some additional data to the graphs. The first graph below shows the percent of patents that discuss Microsoft (in blue) and now also includes the percent of patents that are assigned to Microsoft (in red). Several years ago, Microsoft publicized their intention to obtain a large number of patents. That intention is becoming a reality, and Microsoft recently obtained its 10,000th patent. However, only about 20% of patents that discuss Microsoft are actually assigned to the company.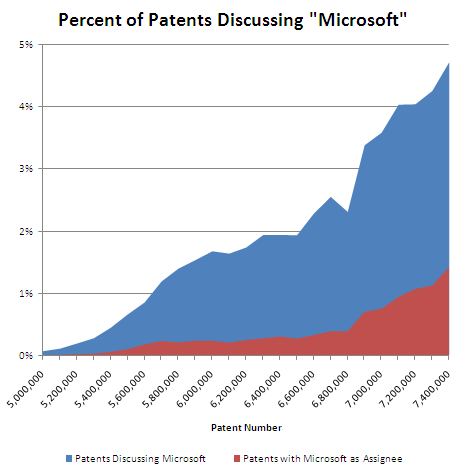 The next graph compares the patents discussing "Microsoft" with other products/companies. Here, I include patents that discuss "Microsoft" (blue), "UNIX" (green), "LINUX" (red), and "Apple" (tan). UNIX has seen some growth, but not much since the mid 1990's. In the past couple of years, the number of LINUX patents have grown dramatically, but still pale in comparison to Microsoft patents. Although the absolute numbers for LINUX related patents are still small, they are surprisingly high based on the anti-patent lore of LINUX developers. Apple has remained steady over the years. Of course, my results for Apple should be tempered by the false positive results that actually refer to the fruit rather than the computer company or its products.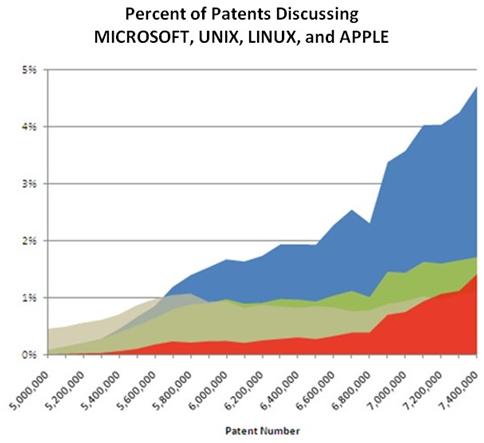 An issue in all these graphs is time lag. The time lag of issued patents may be easily seen by searching for patents that discuss "Google." – The result is only 1342 patents but 4682 published applications.