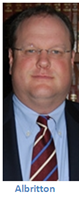 Eric Albritton's defamation lawsuit against Rick Frenkel and his former employer Cisco Systems is underway in the Eastern District of Texas. In my opinion, the case is ridiculous. However, it should serve as a reminder that those vehemently against certain types of speech can often shut-down that speech. Frenkel has indicated that he will not revive his troll tracker blog.
The whole controversy began when Albritton's litigation team (on behalf of ESN) filed a patent infringement action against Cisco in the Eastern District of Texas. The electronic timestamp of the filing was October 15, 2007 even though the patent did not issue until October 16. Of course, a patentee has no standing to file a lawsuit until the patent issues. I reported on that discrepancy in an October 16 Patently-O post. [Link].
A few days later, Frenkel reported that the filing date had been changed by the clerk without notice or motion. In his report, Frenkel suggested that
"ESN's local counsel called the EDTX court clerk and convinced him/her to change the docket to reflect an October 16 filing date, rather than the October 15 filing date. I checked, and sure enough, that's exactly what happened – the docket was altered to reflect an October 16 filing date and the complaint was altered to change the filing date stamp from October 15 to October 16. Only the EDTX Court Clerk could have made such changes. . . . This is yet another example of the abusive nature of litigating patent cases in the Banana Republic of East Texas."
In a later posting, Frenkel identified Albritton as ESN's local counsel.
Albritton apparently does not dispute the fact that the original docket sheet indicated October 15 or that his office convinced the clerk to change the date stamp. However, he explains that the change was proper because the electronic filing had been started prior to midnight, but was not finally submitted until after midnight.
Albritton subsequently filed a defamation suit against Frenkel, several of his colleagues at Cisco, and against Cisco itself. The basis of the defamation suit is the underlying implication that Albritton acted illegally in getting the docket sheet changed.
Complicating the case are the issues that: (1) Frenkel was at the time posting anonymously as the "Patent Troll Tracker;" (2) the docket sheet change involved a case against Frenkel's employer Cisco; (3) Frenkel also mentioned another attorney, Johnny Ward, son of E.D.Tex. Judge Ward; and (4) The lack of respect for the E.D.Tex. apparent in the Troll Tracker posts.
Joe Mullin has been reporting on the details of the trial. [Link]