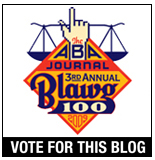 For the third-year running, the ABA Journal has selected Patently-O as one of the top 100 legal weblogs — "the best legal blogs as selected by the Journal's editors." Last year, readers also voted Patently-O as the best blog covering a niche area of law. This year, the voting will likely be more competitive. I would appreciate your vote – this year, the ABA Journal is requiring that voters first register (free). [VOTE HERE]
IP Related Blogs that made the list include:
For Patently-O readers, the listing is probably most useful for locating non-patent blogs that look interesting (especially since many of the best patent-focused blogs were not included in the list).