Guest Post by Brad Pedersen and Justin Woo (Read their Full Article at http://ssrn.com/abstract=1518660)
The Patent Reform Act of 2009 would replace the current "first-to-invent" (FTI) system with a new "first-inventor-to-file" (FITF) system. While touted as a way to harmonize the US system with "first-to-file" (FTF) systems used in other countries, an experimental investigation of a matrix of two hundred typical fact patterns for two competing inventors was analyzed under all three systems (FTI, FITF and FTF) to test this assumption. Based on the matrix analysis, it appears that if FITF is adopted there likely will be changes in applicant behavior and significant extra costs for at least several years as a result of the transition to a new system; and, it is unclear whether FITF really gets the US any closer to patent harmonization.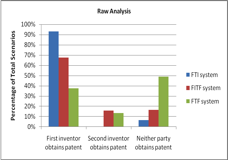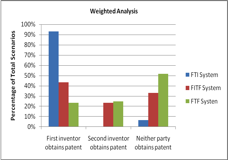 Caption: Scenarios where both parties have filed applications
The proposed FITF system has a tendency to behave as an entirely different system in certain scenarios, rather than as a midway point between the existing FTI and FTF systems. A raw analysis of the results reveals a discrepancy wherein a larger percentage of second inventors are awarded a patent under the FITF system than predicted by a shift toward a FTF system. A weighted analysis reflecting likely applicant behavior from the implementation of the FITF system emphasized, rather than diminished, these discrepancies with expected results.
It appears that the "springing public disclosure" exception created under the proposed FITF system to replace the one-year grace period found in current US patent law is one of the primary reasons for the discrepancies. This exception allows applicants to control the start of the grace period that disqualifies the public disclosures and even prior filed applications of others from being prior art based on the timing of the applicant's own public disclosure. The springing nature of this exception provides unique incentives for applicants to manipulate the timing of the public disclosure of their inventions in order to manipulate the grace period, thereby creating results seemingly inconsistent with core principles of the existing FTI and FTF systems.
For a link to the entire paper, go to:http://ssrn.com/abstract=1518660