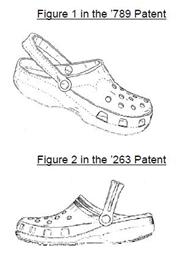 International Seaway Trading Corp v. Walgreens Corp (Fed. Cir. 2009)
The laws of anticipation and infringement are often considered as a symmetric pair. In its classic statement on point, the Supreme Court proclaimed "[t]hat which infringes, if later, would anticipate, if earlier." Peters v. Active Mfg. Co., 129 U.S. 530, 537 (1889)
Design Patent Infringement: In the 2008 en banc Egyptian Goddess decision, the Federal Circuit eliminated the 'points-of-novelty' test from the infringement analysis. Infringement of a design patent is now proven by showing that an "an ordinary observer, giving such attention as a purchaser usually gives" would find the accused design "substantially the same" as the patented design. Egyptian Goddess, 543 F.3d 665, 670 (Fed. Cir. 2008)(en banc). Egyptian Goddess has been seen as boon for design patent because infringement is now easier to prove.
Design Patent Anticipation: If the Egyptian Goddess decision made it easier to prove infringement of a design patent, the rubric of symmetry indicates that the law of anticipation should also change to make it easier to invalidate a design patent. In particular, in this case Walgreens successfully argued that the points-of-novelty test for novelty should be eliminated.
Prior to the present decision, a design patent would be considered invalid as anticipated if it failed both the points-of-novelty and the ordinary observer tests of novelty. Under the points-of-novelty test, the declared "points-of-novelty" of a patented design are compared with the closest prior art reference to determine whether those same design elements are found in the prior art. Under the ordinary observer test the patented design was compared with the alleged anticipatory reference to determine whether an ordinary observer would find the two "substantially the same."
Based on the en banc elimination of the points-of-novelty test for infringement analyses, the Federal Circuit here also eliminated the points-of-novelty test from the anticipation analysis.
Writing in Dissent, Judge Clevenger agreed with the elimination of the points-of-novelty test, but disagreed with details of the majority opinion. Namely, Judge Clevenger warned against conducting the ordinary observer test by "dissection of a design as a whole into its component pieces."
As recognized by the majority, the ordinary observer test requires assessment of the designs as a whole. . . . I agree that the differences in the inner sole designs are to be assessed as part of the anticipation inquiry. But the differences in the inner sole designs must be appreciated in conjunction with all of the design differences. This is so especially with regard to the differing number and arrangement of the circular openings on the upper of the clogs. . . . The effect of the summation of all the design differences is what counts, not the comparison of differences one by one, isolated from each other. Such an approach invites the problems we sought to eliminate by rejecting the "point of novelty" test. . . . Partial judgments of anticipation on segments of a design prohibit assessment of designs as a whole, in violation of long-standing law, starting with Gorham.