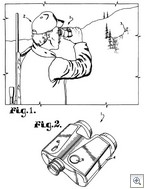 Bushnell v. Brunton (Fed. Cir. 2009)
Preliminary injunctions are often incredibly important in patent cases. The civil procedure is also fascinating. The appeal of a preliminary injunction often involves three steps. First, an emergency request for a temporary stay of relief is filed. If granted, the temporary stay typically lasts only until the parties can brief the question of whether relief should be stayed throughout the appeal. The third step finally gets to the merits of the appeal. Remember though that the merits of these appeals are whether an injunction should stay in place throughout the rest of the litigation. Thus, each step asks essentially the same questions about likelihood of success and the harms of action and inaction.
Bushnell's patents cover various aspects of a laser range finder. The company sued Brunton and Lanshoo in Kansas for infringement and also filed a motion for a preliminary injunction to stop the ongoing infringement. On November 25, 2009, Judge Vratil issued the preliminary injunction and Brunton immediately requested a temporary stay from the Federal Circuit. The rotating motions judge (Judge Linn) granted a temporary stay of relief that same day (November 25, 2009). [Link] However that temporary stay was intended only to last until the court could decide whether relief should be stayed for the remainder of the PI appeal. The decision on that question moved to a merits panel of Chief Judge Michel and Judges Schall and Linn.
Under the Supreme Court precedent of Hilton v. Braunskill, 481 U.S. 770 (1987), an appellate court may stay relief pending appeal when the moving party establishes a strong likelihood of succeeding on the merits of the appeal or "failing that" when the party has a "substantial case on the merits and the harms factors militate in its favor." In this case, the Federal Circuit ruled that "Brunton has not met its burden" and immediately lifted the stay (December 30, 2009 opinion). [Link] The only problem is that the decision is too late for the Christmas season.