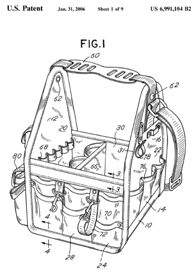 Outside the Box Innovations, LLC v. Travel Caddy, Inc., (Fed. Cir. 2010)(order)
In a non-precedential order, the Federal Circuit has disqualified the law firm of King & Spalding from representing Travel Caddy on appeal. At the district court level, Outside-the-Box was successful in proving that Travel Caddy's patent should be held unenforceable due to inequitable conduct. In post-verdict motions, a King & Spalding partner (Tony Askew) filed an expert witness declaration on behalf of a Outside-the-Box indicating that the requested attorney-fees were reasonable. For the appeal, however, three other King & Spalding attorneys began representing Travel Caddy on the other side.
Writing for a unanimous appellate panel, Judge Dyk indicated that King & Spalding's actions are improper regardless of whether Askew's expert work created an attorney-client relationship with Outside-the-Box. In particular, the court noted the likelihood that King & Spalding's new client Travel Caddy will need to challenge the sufficiency of the expert opinion that it provided earlier.
The question whether King & Spalding should challenge the expert opinion of one of King & Spalding's partners in our view would materially and adversely affect the firm's representation of Travel Caddy on appeal. We determine that Rule 1.7(a) is applicable. There has been no showing that Travel Caddy waived the conflict pursuant to GRPC 1.7(b), even assuming that the conflict is one that can be waived. For example, there is no written waiver included in the submissions; there has been no showing that Travel Caddy "received in writing reasonable and adequate information about the material risks of the representation"; or that Travel Caddy was "given the opportunity to consult with independent counsel."
The case was litigated in Georgia and the Federal Circuit based its decision upon the Georgia Rules of Attorney Ethics. It did not seem to matter that the King & Spalding appellate counsel were all Texas attorneys.