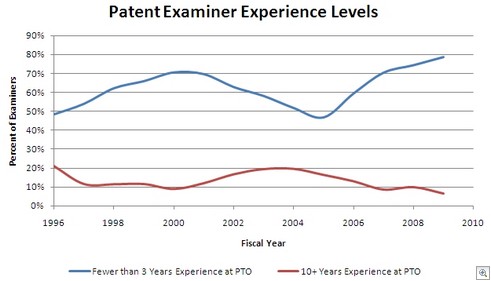 The US Patent Office has announced a "targeted effort to recruit patent examiners." In particular, the Office is hoping to lure former examiners back to the office with the hope that experienced examiners can hit the job running with only a minimal amount of training. However, time-saving and efficiency are only part of the story.
As indicated in the graph above the percentage of patent examiners with fewer than three years of examining experience is at its highest level in recent memory. Almost 80% of patent examiners have fewer than three years examining experience. Less than 10% of the examiners have been working at the office for more than 10 years. In addition to efficiency, the overwhelming number of neophites threatens the professionalism and tradition of the Office. My hope is that the new hires will be leaders in the Office in addition to their role as more efficient examiners.
The drop in the percentage of experienced examiners (10+ years) from 20% to 7% over fiscal years 2004–2009 has two components. First, the absolute number of these experienced examiners dropped from 750+ to just over 400 based on attrition. At the same time, the total number of examiner rose from 3900 to 6500. The PTO is hopeful that some of these 350 examiners who left the office during the Dudas regime will now return.