Ex Parte Frye (BPAI 2010) (precedential opinion)
In a newly issued precedential opinion, the Board of Patent Appeals and Interferences (BPAI) has ruled that examiner findings are given no deference when challenged on appeal.
"[T]he Board reviews the particular finding(s) contested by an appellant anew in light of all the evidence and argument on that issue."
However, examiner findings that are not specifically challenged will not normally be disturbed by the BPAI.
"If an appellant fails to present arguments on a particular issue – or, more broadly, on a particular rejection – the Board will not, as a general matter, unilaterally review those uncontested aspects of the rejection. . . . For example, if an appellant contests an obviousness rejection only on the basis that a cited reference fails to disclose a particular limitation, the Board need not review the other, uncontested findings of fact made by the examiner underlying the rejection, such as the presence of uncontested limitations in the prior art."
The BPAI opinion is also notable because its signatories include the USPTO Director (Kappos) and Deputy Director (Barner). Although it is unusual for the PTO director to take part in BPAI decisions, the Director is a statutory member of the BPAI under 35 U.S.C. 6(a). Based on the 2008 "Duffy amendments" to Section 6, the Deputy Director apparently now has the same status. I say "apparently" because Westlaw claims that the amendment was technically deficient.
Director Kappos has written a blog post about the opinion.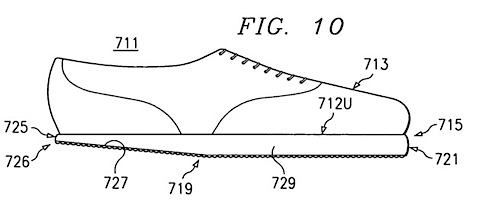 Frye's claim is directed to a shoe having a reverse-incline. On the merits of the appeal, the BPAI reversed the examiner rejection — finding that the examiner had interpreted the prior art in a manner that was "unreasonably broad."