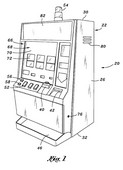 Patent Rights Protection Group v. Video Gaming Technologies (VGT), (Fed. Cir. 2010)
Patent Rights holds patent rights to several slot-machine patents and sued a host of companies for infringement. The Nevada-based district court dismissed the suits against VGT and SPEC for lack of personal jurisdiction. In particular, the district court held that personal jurisdiction would be "unreasonable."
Although patent law is nationalized and litigation is handled in federal courts, the courts are only empowered to take action against defendant have sufficient contacts with the state where the court is located. This analysis of minimum contacts falls under the rubric of "personal jurisdiction" and has been well developed by the US Supreme Court in cases such as Burger King (1985) and International Shoe (1945). Here, the personal jurisdiction question is whether the defendants' contacts with the Nevada are sufficient such that exertion of power by a Nevada-based court "would comport with 'fair play and substantial justice.' i.e., whether exercising jurisdiction would be reasonable." (Nevada's long-arm statute extends to the Constitutional limits.)
VGT and SPEC had only de minimis sales of their products in Nevada. However, both companies had attended several Las Vegas trade shows.
Writing for the unanimous court, Judge LINN [updated to correct typo] held that it would not be "prohibitively burdensome" for either defendant to defend this suit in Nevada. "Indeed, their admitted presence at numerous trade shows in Nevada indicates that, despite their arguments to the contrary, neither company faces a particularly onerous burden in defending itself in Nevada." Here, the court concluded that exhibiting products at a Vegas trade show ("one of the world's larger gaming markets") was likely done with the prospect of commercial benefit and that use of a Nevada business opportunity satisfies the minimum contacts test.
On remand, the district court will likely consider further elements of the personal jurisdiction test (specific vs general jurisdiction) as well as venue.