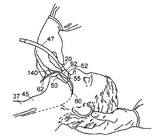 Laryngeal Mask Co. v. Ambu AS (Fed. Cir. 2010)
The district court rejected LMA's patent on summary judgment — holding that the claims covering a laryngeal mask device were invalid for lack of written description.
The written description issues here are similar to those presented in Liebel-Flarsheim and Lizard Tech. The patented invention included both (1) a "cuff" with a "thicker and stiffer" region and (2) a "backplate." The described embodiments all showed the thick-stiff region of the cuff connected to the backplate, but the accused device's cuff-backplate connection was in a different location. The claims themselves did not expressly limit the connection-site with reference to the thick-stiff region and therefore arguably covered the accused device. Given that broad construction of the claims (as requested by the patentee), the district court held the patent invalid on written description grounds because the patent document failed to describe or show possession of the invention as embodied by the accused device.
On appeal, the Federal Circuit panel of Chief Judge Rader, Judge Lourie, and Judge Moore rejected the district court's findings — holding instead that the factual question of written description should be left for the jury in this case.
Rather than focusing on affirmative evidence of possession, the Federal Circuit highlighted that nothing in the specification suggested that that design of the connection between the cuff and backplate was important or necessary to the invention.
"We agree with LMA that one of ordinary skill in the art could read these disclosures as providing for a cuff reinforcement in the distal region that need not be connected to the backplate. In addition, we agree with LMA that one of ordinary skill in the art could read the Cuff Wall Thickening Passage as disclosing a thickened cuff portion that need not be connected to the backplate."
Because those factual conclusions raised issues of material fact, the appellate panel reversed the summary judgment holding and remanded.
The Court's approach implicitly presumes that the asserted patent satisfies the written description requirement and then looks to see whether the evidence is sufficient to overcome that presumption. That method of analysis makes sense based on the procedural setup of the case: Namely, (1) clear and convincing evidence is required to prove that the patent lacks written description; (2) the decision being reviewed was one of summary judgment; and (3) written description is a question of fact.
Notes:
The court also reversed a claim construction holding that had led to summary judgment of non-infringement.

The asserted claims were all added during prosecution. The original claims required that the backplate be "hermetically bonded to a periphery of the main-cuff" and the new claims have a seemingly broader requirement that the backplate be "attached" to the cuff. The original claim appears broad enough to cover the link as embodied in the accused device.