By Dennis Crouch
Earlier this week, I wrote about the dramatic increase in the number of patents being granted in calendar year 2010 as compared with prior years. [Link] Several outlets expanded upon my report and condemned the USPTO based on a conclusion that the higher issuance numbers must have resulted from reduced examination standards. I disagree with that conclusion. The reality is that we have no evidence of reduced standards. Along with more allowances, FY2010 also saw more abandoned applications, more office action rejections, and more final rejections.
Most patent applications are associated with at least one other family member and multiple claims that can each be amended during the examination process. In that context, it is wrong to think about the patent examination as simply seeking a yes or no answer. In the recent past, however, many patent examiners took their role like that of a professional baseball umpire – calling balls and strikes, i.e., rejecting and allowing. That approach is probably not the most efficient way to reach the more nuanced answers necessary in the patent context. The USPTO's new model is to approach examination in a way that allows for more applicant-examiner dialogue and that that hopefully leads to better patents with fewer rounds of negotiation.
Of course, a major factor in the general increase in cases being concluded may be the reluctance of many corporations to spend money fighting protracted examination battles.
The USPTO has provided some preliminary data looking-back on patent examination during Fiscal Year 2010. The first chart shows the number of patent applications allowed each fiscal year for the past decade. FY2010 saw a 27% rise over FY2009. At the same time, the total number of abandoned applications has increased about 7%.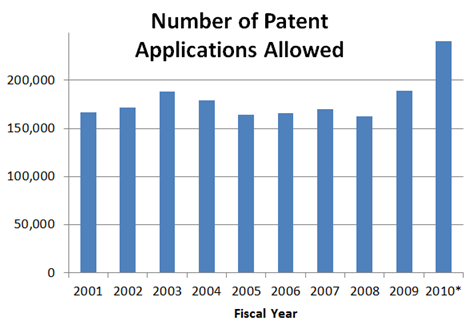 The second chart (below) counts the number of allowances per examiner (APE). As the chart shows, the APE figure has increased over the past two years. However, the APE rate is much lower than 2001-2004.