The USPTO is hiring.  In addition to a number of patent examiner positions, the office is also hiring new executive-level leaders.
Chief Administrative Patent Judge: The Board of Patent Appeals and Interferences (BPAI) is charged with managing and deciding internal patent appeals as well as interference proceedings.  Former Chief Judge Mike Fleming recently moved to a PTO management position working directly under Director Kappos and opened a new position.  The new Chief Judge will move into a role that has become increasingly public. An increasing percentage of rejections are being appealed and the Board has a rapidly growing backlog.  An additional new challenge/potential of the position Director Kappos has recently shifted the organizational chart so that the BPAI Chief Judge reports directly to the PTO Director rather than being part of the Office of the General Counsel. [JOB POSTING]
Associate Commissioner for Innovation Development: The  Associate Commissioner would work with Commissioner Robert Stoll in an outreach-role to work with inventors, entrepreneurs, non-profits, and the US innovation community to help ensure that the US intellectual property protection system continues to work well with these groups. [JOB POSTING]
IPR Commercial Officer for the International Trade Administration in Bangkok Thailand (Not a USPTO Job): The ITA is a branch of the department of commerce that is designed to help US firms compete globally. This position would be situated at the US Embassy in Bangkok and would focus helping US companies protect their intellectual property rights. [JOB POSTING]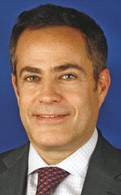 In an e-mail, Hal Wegner highlighted other organizational changes in PTO management. The former public relations office has been revitalized under Peter Pappas in his role as the "Chief Communications Officer and Senior Advisor to the Under Secretary." [Org Chart] [Pappas Bio] [Management Bios]
Professor Arti Rai recently left her role as Administrator for External Affairs and returned to teaching at Duke Law School.  Paul Salmon has stepped-in to fill her role as the Acting Administrator. However, the Office is looking to fill that position on a more permanent basis.
Recent Patently-O Job Postings: