By Jason Rantanen
As discussed yesterday, the Federal Circuit disposed of approximately 19% of the patent infringement appeals it adjudicated in FY 2010 via Rule 36 summary orders/affirmances.  Although this datum is interesting, it begs the question whether the CAFC's use of Rule 36 affirmances has changed over time.  To answer that question, I searched WESTLAW for the court's Rule 36 orders and manually reviewed the results.  As the following table shows, aside from a modest rise in 2006 and 2007, the CAFC's use of Rule 36 affirmances has remained relatively constant over the last twelve years – with one important exception.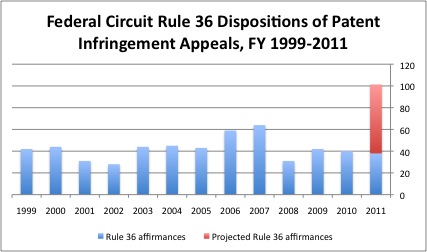 That exception is FY 2011, which so far has exhibited a notable uptick in Rule 36 orders.  The blue bar for 2011 reflects only the Rule 36 affirmances issued through the first four and a half months of the fiscal year, which runs from October 1 to September 30.  If the current rate continues, the CAFC will issue over a hundred Rule 36 affirmances in patent infringement cases -  50% more than the next closest year (FY 2007).
The below chart presents the data in a slightly different way, comparing it to total patent infringement appeals and panel dispositions for the years in which I have data.  Data for FY 2011 reflects appeals docketed and terminated through January 28, 2011.  Note that the termination data for FY 2011 is slightly different from previous years (those years reflect panel adjudications, not all terminations).  As a result, the number of actual panel adjudications is likely somewhat lower.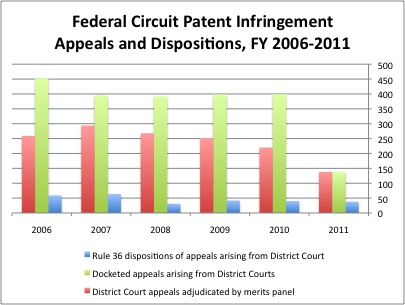 Limitations of this analysis: Because the data was obtained through searches of WESTLAW, it's possible that the number of Rule 36 dispositions is under-inclusive.  I suspect, however, that the variation is not particularly large, as the CAFC's own charts indicate that for patent infringement cases there were 42 summary affirmances in 2010, 55 in 2009, and 36 in 2008, an average variation from my data for those years of about 7. (Data for prior years is not readily available).