By Jason Rantanen
The Federal Circuit's statistics page contains an array of information on both patent and non-patent appeals.  One of the court's most interesting visuals is a pie chart showing dispositions of appeals in patent infringement cases.  Below is the chart for the year ending on September 30, 2010.  (Note that, as one commenter pointed out, this chart shows only appeals in patent infringement cases (i.e.: appeals from district court determinations), an observation that is consistent with the data available here).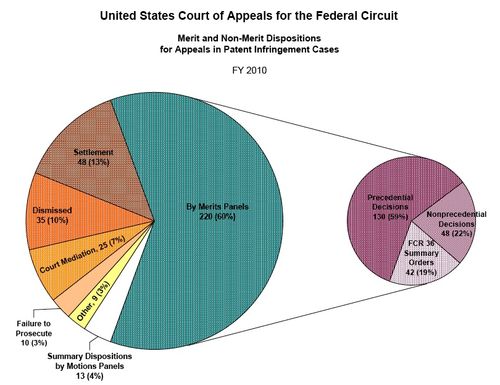 As the court's graph illustrates, the vast majority of patent appeals result in some form of substantive opinion, in many cases a precedential one.  Although the CAFC uses Rule 36 summary affirmances at about the same frequency when disposing of both patent and non-patent cases, it issues precedential opinions far more often when patents are involved in the appeal as the below chart illustrates: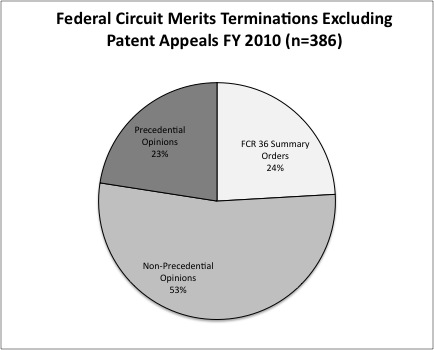 Data sources: "Caseload Analysis" and "Pie chart for merit and non-merit dispositions, in a 12-month period," available at http://www.cafc.uscourts.gov/the-court/statistics.html.
Tomorrow I will dig deeper into the Federal Circuit's use of Rule 36 summary affirmances in connection with patent appeals.