by Dennis Crouch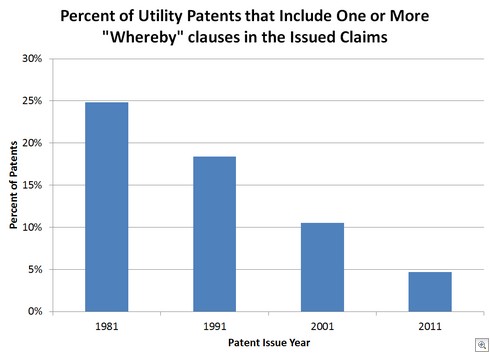 I see the above chart is indicative of patent applicants' shift away from filing patent applications that particularly identify the inventive features of the inventions being patented. "Whereby" clauses have traditionally been used in patent claims as a mechanism of particularly identifying the new result of the claimed invention. In his guide for inventors, David Pressman recommends "adding a 'whereby' clause to specify the advantage or use of the invention to hammer home to the examiner, or anyone else who reads your claims, the value of your invention." Patent It Yourself
(2009).
As the chart shows, whereby clauses have fallen out of fashion. I attribute the reduced reliance on the whereby clauses as largely driven by a perception that whereby clauses do not narrow the claim scope during prosecution but may well be limiting during a later infringement analysis. Even if not limiting, a whereby clause may also cause a patentee to lose face before a jury if the cited advantage turns out to not exist or already be well known in the prior art.
In Hal Milton's recent article, he focuses more on the identification and disclosure of the new result and not on particularly claiming the new result. This particular statistic that I have identified here does not pick up whether applicants are identifying the new result within the specification (outside of the claims).
Note: I created the chart above by counting the number of patents that included the word "whereby" within the claims and then divided that sum by the total number of utility patents issued during the relevant time period.